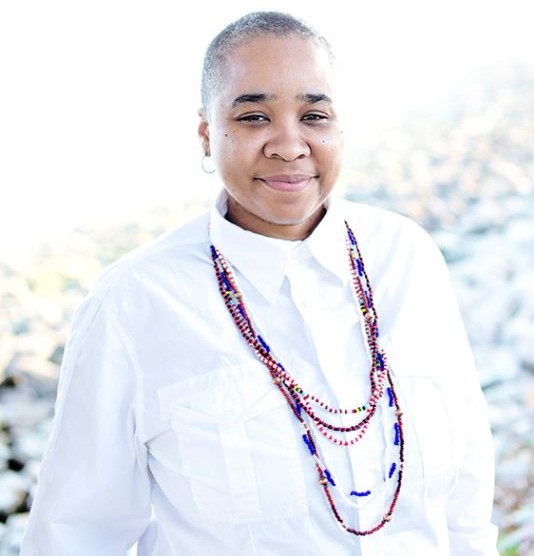 I earned a Master's Degree in Social Work from Howard University, and a Graduate Certificate in Ecotherapy from JFK University. In 2008, I was initiated into the Afro-Cuban Lucumi tradition where I am a part of a lineage of Elders and my main teachers are Dr. Michael A. Mason/Ocan Oni and Josette Williamson/Iya Oyalade who I continue to learn and practice with in Washington, DC. As an Initiated Elder I also serve as a diviner, and Spiritual leader where I provide consultations for others.
J. Phoenix Smith, MSW
I respectfully acknowledge that the land on which I work, live, and practice is the unceded Indigenous territory of the  Nacotchtank and Piscataway Nations now known as Washington, DC. I grew up on the Indigenous lands of the Payaya people of the Tāp Pīlam Coahuiltecan Nation in a place called "The Land of the Spirit Waters" which post Colonization is known as San Antonio, TX where my maternal lineage has lived for at least 5 generations. I also lived for 17 years on the lands of the Ohlone and Miwok people in the Bay Area of California where I began my path as an Ecotherapist. I am forever grateful to the Indigenous ancestors and their living descendants who have been gracious and generous with me  on my path of healing and awakening to my relationship with the land, waters, plants and natural world.
I am a nationally known leader in the field of Ecotherapy where my work has been featured in National Publications such as The Atlantic Magazine, NPR, Black Girls Therapy podcast and in other media outlets. Through over 25 years of work in community public health, I focus on Liberation Ecotherapy ™ as a Healing Justice framework to elevate nature-connection practices that promote health equity, access, healing and Social Justice to support the mental health of diverse communities. In 2011 I founded EcoSoul  where I provide Ecotherapy to individuals and groups and consult with public health and community mental health organizations through Professional Coaching, consulting and training.  I have received grant funding from and partnered with  local health and human services agencies in the public sector such as the City of Oakland and Alameda County Behavioral Health, to provide Ecotherapy training and retreats for civil service staff in my quest to bring Ecotherapy out of the private sector into the public service sector  to make Ecotherapy more accessible to marginalized and diverse communities who do not have access to private psychotherapy. And In 2020, I founded the non-profit The Alliance for Ecotherapy and Social Justice to provide education through courses, and community dialogues on the intersections of Ecotherapy with Social Justice.
EcoSoul Coaching Session
HI there, I'm excited to work with you. Please schedule our 50 minute coaching session. I look forward to being of service.
Ecotherapy Consulting Discovery Call
As a Nationally known leader in the field of Ecotherapy for over a decade, I have consulted with various government, …
EcoSoul Coaching and Mentoring Discovery Call
I provide Ecotherapy as a Mentor. I am also completing a Professional Certification in Transition Coaching, where I partner …
Ecosoul Is A Leader In The Movement To Facilitate Healing, Transformation And Growth Nurtured By Healthy Interaction And Relationships With The Natural World. Our Mission Is To Empower And Support Individuals, Organizations And Communities To Reconnect With The Healing Power Of The Natural World For Health And Wellbeing. We Consult With Individuals, Non-Profits, Social Services And Health Agencies, And Parks And Recreation Agencies, To Introduce And Encourage The Use Of Ecotherapy Practices Through Culturally Aware Programming.